Our Mission Statement
The Christian Worship Hour's mission is to tell the world of the saving grace of Jesus Christ and to encourage believers in their faith.
Statement of Faith
The following core beliefs make up the foundation upon which all our ministry endeavors are based.  The Christian Worship Hour believes: 
• The Word of God: We believe the Bible to be the infallible Word of God; that it is His holy and inspired Word, and that it is of supreme and final authority. (II Peter 1:21; II Timothy 3:16). 
• The Trinity: We believe in one God, eternally existing in three persons – Father, Son, and Holy Spirit. (Matthew 28:19). 
• God the Father: We believe in God the Father, an infinite personal spirit, perfect in holiness, wisdom, power, and love. We believe that He concerns Himself mercifully in the affairs of men, that He hears and answers prayers, and that He saves from sin and eternal death all who come to Him through Jesus Christ. (I Timothy 1:17; John 14:6). 
• God the Son: We believe in the deity of Jesus Christ, that He was conceived by the Holy Spirit and born of the Virgin Mary. We believe that He led a sinless life, took on Himself all our sins, died and rose again, and that He is seated at the right hand of the Father as our mediator and advocate. (John 1: 1-3). 
• God the Holy Spirit: We believe in the Holy Spirit, who being God, convicts the world of sin, righteousness, and judgment (John 16:8); and regenerates, sanctifies, and empowers all who believe in Jesus Christ.  We believe that the Holy Spirit indwells every believer in Jesus Christ, and that He is an abiding helper, teacher, and guide. 
• Regeneration: We believe that all men everywhere are sinners by nature and by choice and are therefore under condemnation and face the judgment of God. We believe men are regenerated by the Holy Spirit and saved by God's grace through a personal faith in Jesus Christ and that we must dedicate ourselves anew to the service of our Lord and to His authority over our lives. (John 3:3; Titus 3:5). 
• Resurrection: We believe in the resurrection of both the saved and the lost: they who are saved unto the resurrection of life, and they that are lost unto the resurrection of damnation. (Romans 8:11). 
• The Body of Christ: We believe in the spiritual unity of believers in Jesus Christ, and in holy Christian living, and that we must have concern for the hurts and social needs of our fellowmen.(Ephesians 4: 11, 12). 
• The Church: We believe that the church is the body of Christ on earth and in heaven (Ephesians 3:15), the redeemed fellowship of believers, crossing denominational, cultural, national and racial lines, and is God's institution for bringing redemption and sanctification to individuals and families, and for evangelizing the nations. 
• Global Ministry: We believe in using every modern means of communication available to us to spread the Gospel of Jesus Christ throughout the world. (Matthew 28:18-20).
40+ Years Broadcasting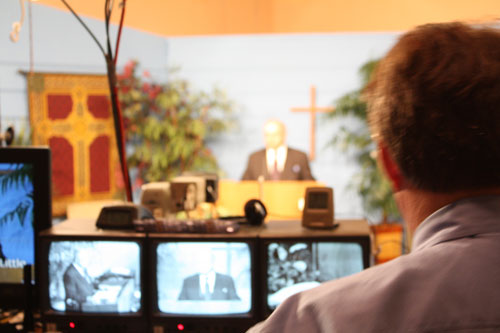 The first live telecast of the Christian Worship Hour began in 1979 on KABY TV in Aberdeen, South Dakota. Since then, over 82 TV stations have been added, along with numerous satellite networks and, recently, one worldwide network. The vision of the CWH is to offer a worship service to those who are housebound. The telecast was never meant to be a substitute for worshipping in your own church. The broadcast airs on more than 82 stations and 5 networks domestically and around the world.
Pastor Salem
Harold E. Salem was born near Belle Fourche, South Dakota and graduated from Belle Fourche High School. He earned a Bachelor of Science degree from Black Hills State University. He graduated from Northwestern Bible School and Seminary, Minneapolis, Minnesota where he earned the Bachelor's and Master's degree in Theology. He also earned the Doctor of Ministry degree from Northern Baptist Theological Seminary, Lombard, Illinois.
On June of 1944 he began serving the First Baptist Church of Belle Fourche, South Dakota, his home church and his first church. He served the church 13 1/2 years, during which time a new sanctuary was built. In January 1958, he accepted the call to the First Baptist Church of Aberdeen, South Dakota, where he has served 52 1/2 years during which time a new sanctuary, Christian Education building, gymnasium and youth center were built.
Meet Our Staff
Many people are involved in bringing the Christian Worship Hour to you each week. With the timeless and classic broadcasts, you see a few of them on a regular basis: Pastor Salem, Hank, Melissa, Barb and Jan. Currently, there are many others working diligently behind the scenes. The Christian Worship Hour has a hard-working production crew for the newly created hosted programs with Mike Salem.  CWH has also enlisted the help of Shaun O'Connell of Labyrinth Films to advise in current production.  Along with the production crew, our office staff, board of directors and prayer team all work together to glorify God and bring the program to you each week. Click here to learn more about our staff.