About Dr. Harold E. Salem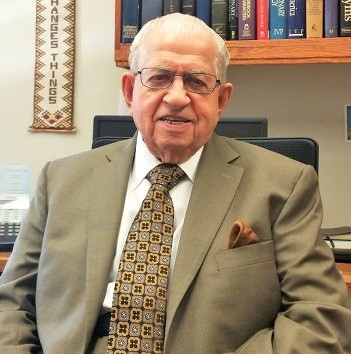 Harold E. Salem was born near Belle Fourche, South Dakota and graduated from Belle Fourche High School. He earned a Bachelor of Science degree from Black Hills State University. He graduated from Northwestern Bible School and Seminary, Minneapolis, Minnesota where he earned the Bachelor's and Master's degree in Theology. He also earned the Doctor of Ministry degree from Northern Baptist Theological Seminary, Lombard, Illinois.
In June of 1944 he began serving the First Baptist Church of Belle Fourche, South Dakota, his home church and his first church. He served the church 13 1/2 years, during which time a new sanctuary was built. In January 1958, he accepted the call to the First Baptist Church of Aberdeen, South Dakota, where he served 52 1/2 years during which time a new sanctuary, Christian Education building, gymnasium and youth center were built.
In August 2010, he resigned from First Baptist Church to give full time to the Christian Worship Hour as a preacher offering broadcast sermons on TV, online streaming, shortwave and FM radio around the world. Christian Worship Hour began in January, 1979 by telecasting the worship service on a single TV station, KABY-TV in Aberdeen. In August 2010, the live broadcast was moved to the recording studio of KABY-TV and in October 2019 the recording studio was moved to our current office building in Aberdeen. Today the CWH can be seen or heard on Daystar, Daystar Espanol, World Harvest, CTN, TLN, TCT, and CW+ networks, along with eighty-two broadcast stations, cable and satellite systems reaching millions of homes across the US and Canada. Daystar carries the service worldwide. The broadcast is also carried on shortwave radio by three antennas to reach 3.8 Billion people around the world.  Podcasts of services can be reached on nine platforms which include Apple, ITunes, Spotify and IHeart Radio. CDs and DVDs are also available.
Pastor Salem's sermons and other resources can be viewed on our website christianworshiphour.com on desktops or other portable devices.
Some areas where Pastor Salem has served:
Charter Member of Fellowship of Christian Athletes, Aberdeen, South Dakota
Charter Member of Northern Plains Hospice, Aberdeen, South Dakota
Served as Probation Officer for Butte County, South Dakota, from 1945-1958
Served as Treasurer for South Dakota State Penitentiary Parolees, Aberdeen
Served two years as Chairman for Brown County Juvenile Summer Camps
Served on Advisory Board for St. Luke's Hospital, Aberdeen, South Dakota
Served on Advisory Board for Presentation College, Aberdeen, South Dakota
Served on the Board of Directors for the Aberdeen YMCA
Served on the Board of Directors for the Aberdeen Red Cross
Served on the Board of Directors for the New Beginnings, a home for juvenile offenders
Served on the Board of Directors for Habitat for Humanity
Served as President of South Dakota Baptist Convention, Sioux Falls, South Dakota, years - 1963, 1964, 1973
Served as chairman of four city-wide evangelistic crusades in Aberdeen with Billy Graham Evangelists, Leighton Ford, John Wesley White (2) and Bill Glass of Glass Associates
Has held over 70 evangelistic services in churches throughout the United States
Has preached in services in London, England; Damascus, Syria; Ammon, Jordan; Beirut, Lebanon; and Toronto Canada
Has served as an Ambassador for "Global Outreach" in Middle East
Served on the faculty of the Billy Graham Schools of Evangelism for 16 years with over 50 schools in the United States and Canada
Awarded the "Pastor of the Year" honor twice by the South Dakota Baptist Convention
Inducted into South Dakota Hall of Fame, 2000
Awarded Honorary Doctor of Humane Letters from University of Sioux Falls, Sioux Falls, South Dakota, 2003
Recipient of "Book of Golden Deeds" Award, 2006
Pastor Salem and his wife Beulah have four children: Sharron, Daniel, Patty, and Michael.  They have several grandchildren and great grandchildren. His wife, Beulah, went to be with the Lord on Christmas Eve, 2005. Of her, Pastor Salem writes, "If I have attained any good in this life it is because of the help of Jesus Christ and my dear wife, Beulah, who stood by me, believed in me, encouraged me for 59 1/2 years and without whose loving help I could not have run the race."
Pastor Salem entered into the presence of the Lord on December 18, 2020 in Aberdeen, SD. The legacy he left will endure for generations.