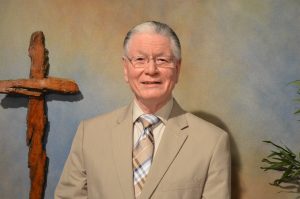 Hank Bowker
919 13th Avenue SW, Aberdeen, SD 57401
Pastor Salem married Carol (nee Ernst) and I on Saturday, February 29, 1964, in the old First Baptist Church in Aberdeen, SD. We have three grown daughters and three grandchildren. I was "born again" on Thursday, October 2, 1975, and dedicated my life to Christ at that time, again in Aberdeen.
God set the stage for my singing career way back when I was a teenager. My Gospel music ministry began in 1975, shortly after I accepted Christ as my Savior, however, I have been performing professionally since the age of fifteen. High points of my Gospel singing career include providing music and entertainment for the South Dakota Right to Life organization, the National Right to Life organization, and opening concerts for the Blackwood Brothers, a nationally known Gospel Quartet out of Nashville, TN.
Other high points over the years include providing music and entertainment for Governor George Mickelson during the South Dakota Bicentennial Celebration (1989), including the dedication of the newly remodeled Rotunda in the State Capitol Building that Fall. Governor Mickelson also used my music extensively throughout the Year of Reconciliation (1990) between the Lakota-Dakota-Nakota Nations of South Dakota and the State of South Dakota. I was inducted into the South Dakota Rock 'N Roll Hall of Fame in 2009.
Gospel CDs I have recorded include:
BIGGER THAN ANY MOUNTAIN (1981)
HEART 'N SOUL (1987)
GOSPEL 'LIVE' AT CENTENNIAL VILLAGE (2008)
SONGS OF VICTORY (2011)
LOOKING UP (2011)
FROM EVERLASTING TO EVERLASTING (2012)
SHELTERING ARMS (2012)
IN HIS PRESENCE (2013)
HEAVEN – CAN'T WAIT! (2013)
TOUCH MY HEART (2014)
CHRISTMAS CAROLS, VOLUME I (2014)
GLORY! (2015)
IT'S CHRISTMASTIME!! (2015)
Click here to contact Hank through our Contact Us page. Thank you and God bless!